The juxtaposition of red and black is a powerful statement that has symbolized many things, from the unlikely marriage of anarchy and socialism during the Spanish Civil War, to high Florentine fashion statements. That striking combination translates very nicely into furniture design as black frames vibrate in tension with rich red panels. Red dyes work so well with wood grains, somehow feeling natural even when our heads tell us it can't be so.



Crimson Asphalt is a metaphor for this tension. It is a place where I will explore Shaker simplicity, Asian style, native woods, and the visual power of color, the absence of color, and the ever changing face of wood grain.
Introducing the Crimson Asphalt Collection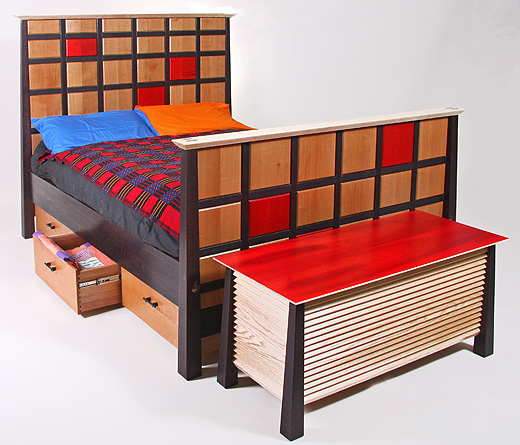 The long tapered black legs and the shapely angled caps give this furniture a Japanese feel. The traditional shapes are comfortable and familiar. The rich cherry wood, in contrast with the blackened oak frames, white ash, and the splashes of crimson, all combine to be visually exciting. This is Crimson Asphalt, combining good design, style, and superior craftsmanship in unique pieces of furniture that will last for generations.



The Crimson Asphalt bedroom collection is made from hardwoods harvested in Western Massachusetts. Red oak, ash, and cherry have been dyed, ebonized, grain infilled, and finished in durable polyurethane to give the wood a warm glow and many years of lasting beauty. This furniture is built with all solid wood using traditional joinery, such as the hand-cut dovetails found on all the drawers. This collection is made to order with each piece signed and numbered.