Best in Show, Body of Work in Contemporary Furniture
Providence Fine Furnishings Show 2007
Crimson Asphalt and Essence Woodworks received top honors
at the Providence Fine Furnishings Show.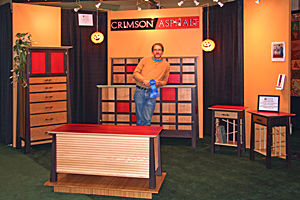 Best in Show, Furniture, Single Piece Contemporary
Providence Fine Furnishings Show 2006
Studio Cochineal was very proud to have had their striped cabinet selected
as the best contemporary piece at the Fine Furnishings Providence Show.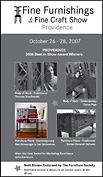 Show Stoppers: Seeing Red
Paradise City Guide - Fall 2005
"Schlerman and Niswonger bring an unparalleled point of view to their studio furniture,
and Paradise City is honored to welcome them as new exhibitors."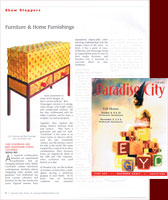 Used with permission.
© 2005 Paradise City, Inc.
AmericanStyle Magazine - October 2005
AmericanStyle chose a Studio Cochineal image to announce the Paradise City Arts Festival.



Daily Hampshire Gazette - April 18, 2005
"Cabinetmakers bring fine furniture to show"
… a feature article on the front page of the business section,
with photos of our preparations for the 2005 Philadelphia Furniture and Furnishings Show.